Gerry Faust, former football head coach of Notre Dame University and the University of Akron, is a frequent speaker about his Catholic faith. Earning All-State honors playing quarterback in high school at Chaminade High School in Dayton and three letters in football as quarterback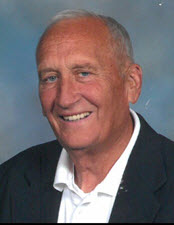 at the University of Dayton, Faust received an undergraduate degree in education and a master's degree at Xavier University. He has written three books: Notre Dame's Men in Motion, The Golden Dream, and Tales from Notre Dame Football which he co-authored.
Starting in 1960 with nothing but freshman, Faust established a football program at Archbishop Moeller High School in Dayton. Faust's team won 12 Greater Catholic league championships, 10 city championships, 8 regional championships, 5 state championships and 4 mythical national championships. During his tenure Faust coached 22 high school All-Americans and 39 All-Ohio players with 265 of his players continuing their career at the college level.
On November 24, 1980 Faust became the 24th head coach of Notre Dame University. His record at Notre Dame was 30-26-1 in five years, with two Bowl appearances. In 1985 Faust accepted the position of head coach at the University of Akron. One year later the NCAA approved the move from Division I-A Independent status. Akron is the first school to ever accomplish this.
Faust has received several honors including two National High School Coach of the Year awards, six Ohio Coach of the Year, 12 league coach of the Year and induction into the Chaminade High School Hall of Fame, the Moeller Hall of Fame (which is named in his honor), Ohio High School Football Coaches Association Hall of Fame, the LaRosa's Hall of Fame, Summit County Hall of Fame, Hamilton County Hall of Fame, SWOFCA Hall of Fame and the National High School Hall of Fame. He received the Irish Clover Award and Senior Fellow Award from the student body at Notre Dame and received honorary membership to the Monogram Club. He is the only Notre Dame Coach to receive all of these awards. Moeller High School's new athletic complex is named in his honor.
Faust, retired from the University of Akron resides in Akron with his wife, Marlene. They are the proud parents of three children and six grandchildren.
---
Coming in September
SEPTEMBER 11th** Pacifique Niyonzima,,
Student at Walsh University, Canton, OH
The Strength of the Human Spirit Orphan of the Genocide in Rwanda,
** Second Friday