Dr. Susan McGurgan is the Director of the Lay Pastoral Ministry Program and an Assistant Professor of Pastoral Theology at the Athenaeum of Ohio/Mount St. Mary's Seminary in Cincinnati. In addition to administrative duties of staff supervision, budget, student recruitment, advising and adjunct faculty oversight, Dr. McGurgan teaches Church History,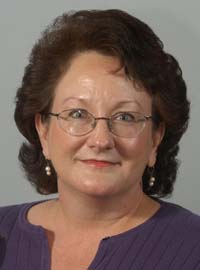 Evangelization and Capstone in the LPMP program and Homiletics II in the Permanent Diaconate program. She is a member of the Catholic Association of Teachers of Homiletics and the Academy of Homiletics and serves on a variety of institutional and archdiocesan committees.
She has presented preaching and lector training workshops at the parish, diocesan and national level and has published and presented papers on homiletics and preaching formation. Current areas of interest include the language of preaching, the intersection of theology and the arts, preaching hope, diaconal preaching formation and the history of women in evangelization and proclamation.
A native of Oklahoma, Susan is the descendant of pioneer women who lived on the promise of hope as they created homes and family life in sod houses, oil boom camps, land-run homesteads and dust bowl era farms. Susan holds an Honors History Degree from Oklahoma State University and completed three years of doctoral work in Ancient History and Classics at the University of Cincinnati. She earned an M.A. in Religion from the Athenaeum of Ohio and a Doctorate of Ministry in Preaching from Seabury-Western Theological Seminary in Evanston, Il. Although she did not finish the degree at UC, she did meet her husband of 35 years in the Classics Department Reading Room, so counts it as time well spent. She and Andrew have three sons, Robert, Kevin and Patrick.
---
Coming in July
JULY 10 Brian Starks, PhD
Associate Professor of Sociology, Kennesaw State University, Atlanta, GA
Are We Basically Bad or Fundamentally Fine?
Surprisingly Different Views on Human Nature and Why it Matters
** Second Friday